Scaling Up Master Business Course
Clarify your vision, align your team, and generate a consistent, stable cash flow
Get a proven framework for growth in the Scaling Up Master Business Course!
The next fully coached course kicks off in May of 2022!
Why Take The Course?
When you implement the fundamentals of this program, you'll make incredible leaps to double your cash flow, triple your profits, and increase your valuation 10-fold. You'll see progress in as little as a few months.
If you're going for spectacular growth…what's holding you back?

Successful scale-ups show us one thing for sure: It's NOT the economy. And it's NOT your industry.

If you're like most business leaders, your challenge is to align your team, scale your infrastructure, and develop the steady stream of cash you need to grow.

Maybe you've tried to play defense, by working harder and doing 'more of the same'. After all, that's what got you to where you are now.

But the research is clear…you can't scale by playing defense.

Successful leaders make a FUNDAMENTAL SHIFT...

Instead of running their business day-to-day and managing crises, they hone in on a powerful strategy that delivers consistent, stable growth.
READY TO GET STARTED?
Download the course outline!
Curious about the course objectives?
Want to know what each major section of Scaling Up focuses on? Get a sneak peek.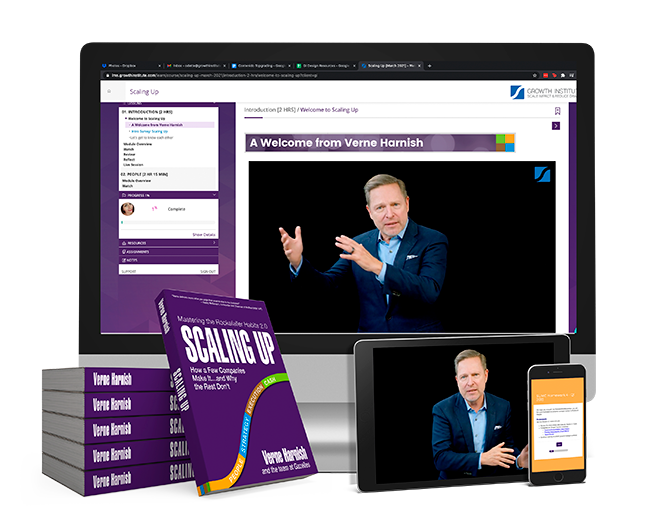 What You'll Learn
Now, what if you knew exactly what to do every day to grow your business...without drama?
Imagine using a proven strategy that would...
generate a vision that allows you to stop putting out fires
get your team aligned, focused, and energized
build a positive and engaging work environment for your employees
scale your infrastructure in an intentional, systematic way
generate the cash flow you need to take advantage of new opportunities
all so you can run a rapidly growing, highly successful company?
Discover exactly what you need to do to unlock incredible growth with the Scaling Up Master Business Course!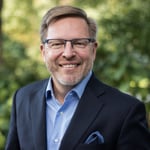 Verne Harnish
Your Scaling Up Authority
Verne Harnish is a bestselling author, speaker, and business expert with three decades of experience helping companies scale-up. He founded the Entrepreneurs' Organization (EO) and is founder and CEO of Gazelles, a global executive education and coaching company with over 150 coaching partners on six continents. He chairs EO's premiere CEO program, the "Birthing of Giants" held at MIT. Verne is the Venture columnist for FORTUNE magazine and the author of Scaling Up and Mastering the Rockefeller Habits. Verne also chairs FORTUNE Magazine's annual Leadership and Growth Summits and serves on several boards, including The Riordan Clinic and Geoversity. He is an investor in many scale-ups.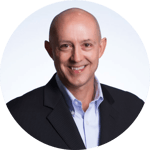 Herb Cogliano
Your Scaling Up Coach
Herb Cogliano is a business coach, experienced CEO, and Scaling Up practitioner. Herb was formerly CEO of Sullivan and Cogliano Designers. In 1993, he founded the Sullivan and Cogliano education business, which has appeared on the Inc. 5000 Fastest Growing Company list multiple times. He is also a multi-year recipient of the Boston and South Florida Business Journal 'Best Places to Work' award. Herb has learned firsthand what it takes to overcome business challenges. He now spearheads his own advisory practice based on the award-winning books Scaling Up and The Rockefeller Habits.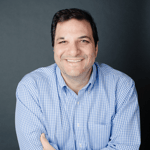 Daniel Marcos
Your CEO Roundtable Host
Daniel Marcos is co-founder and CEO of Growth Institute, the leading online executive education company for C-level executives at fast-growing firms. He is a keynote speaker and a CEO Coach, with a mission to help 1 million entrepreneurs scale their companies faster and with less drama.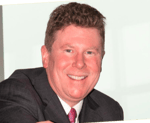 Rick Crossland
Power Hour Leader
Rick Crossland is author of A-Player, and has over 30 years experience in recruiting, training, and leading high-performers. As an internationally known expert and thought leader, he trains leadership at organizations across the country.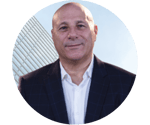 Alan Miltz
Power Hour Leader
Alan Miltz co-authored Scaling Up and teaches Growth Institute's "Profit, Cash, and Value" course. He co-founded Cash Flow Story, which allows non-financial individuals to easily analyze and improve business profit, cash, and value.
Who will benefit from this course?
Business Owners
We provide the tools for business owners ready to take their businesses' growth seriously.
Founders
We provide the opportunity to emulate the proven results of industry leaders.
CEOs
We provide strategies to leverage the customer relationships you already have.
Top Executives
We provide the latest and most effective methods to scale up your business now.
Testimonials
What are leaders saying about Scaling Up?
Successfully Scale Your Business With Our 360 Hybrid Method of Learning
A company can only grow as fast as its leadership. What are you doing to grow your leaders of tomorrow? From Sales and Marketing to Operations and Finance –we have a course for everyone.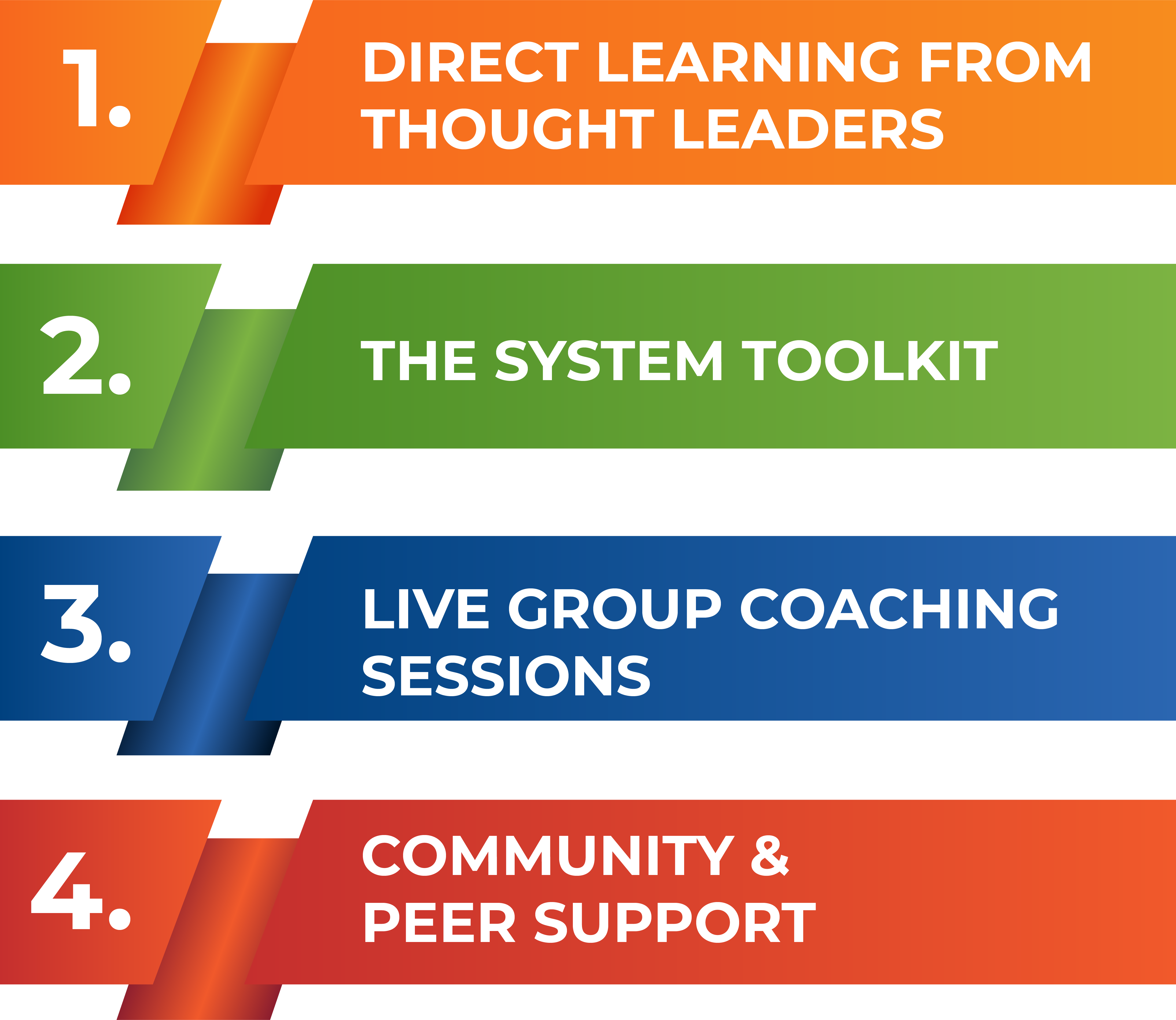 Pricing
Enroll in the course today!
Master Business Course: Single Seat
Full Course Includes:
Access to this course for 1 team member
Lifetime access to this course, toolkits, etc.
Global community of peers
8 core modules
8 Live coaching calls
4 Live Coach-Led Masterminds
Master Business Course: Team Package
Full course includes:
Access to this course for 3 team members
Lifetime access to this course, toolkits, etc.
Global community of peers
8 core modules
8 Live coaching calls
4 Live Coach-Led Masterminds
One-on-One 1-Hour Coaching With A Scaling Up Coach (Per Team)
Recommended Package: MBD All Access
Membership includes full access to this course PLUS:
Access to all Master Business Courses
The full library of Learning Suites in The Edge
Tailored Curriculum and personalized onboarding for you and your team
Global growth community
Live trainings with authors and coaches to help implement new methodologies
Growth Assessments to understand the biggest areas of opportunity
Monthly progress check-ins to review progress and update curriculum
Quarterly progress reporting
Not sure which option to choose?
Let us help!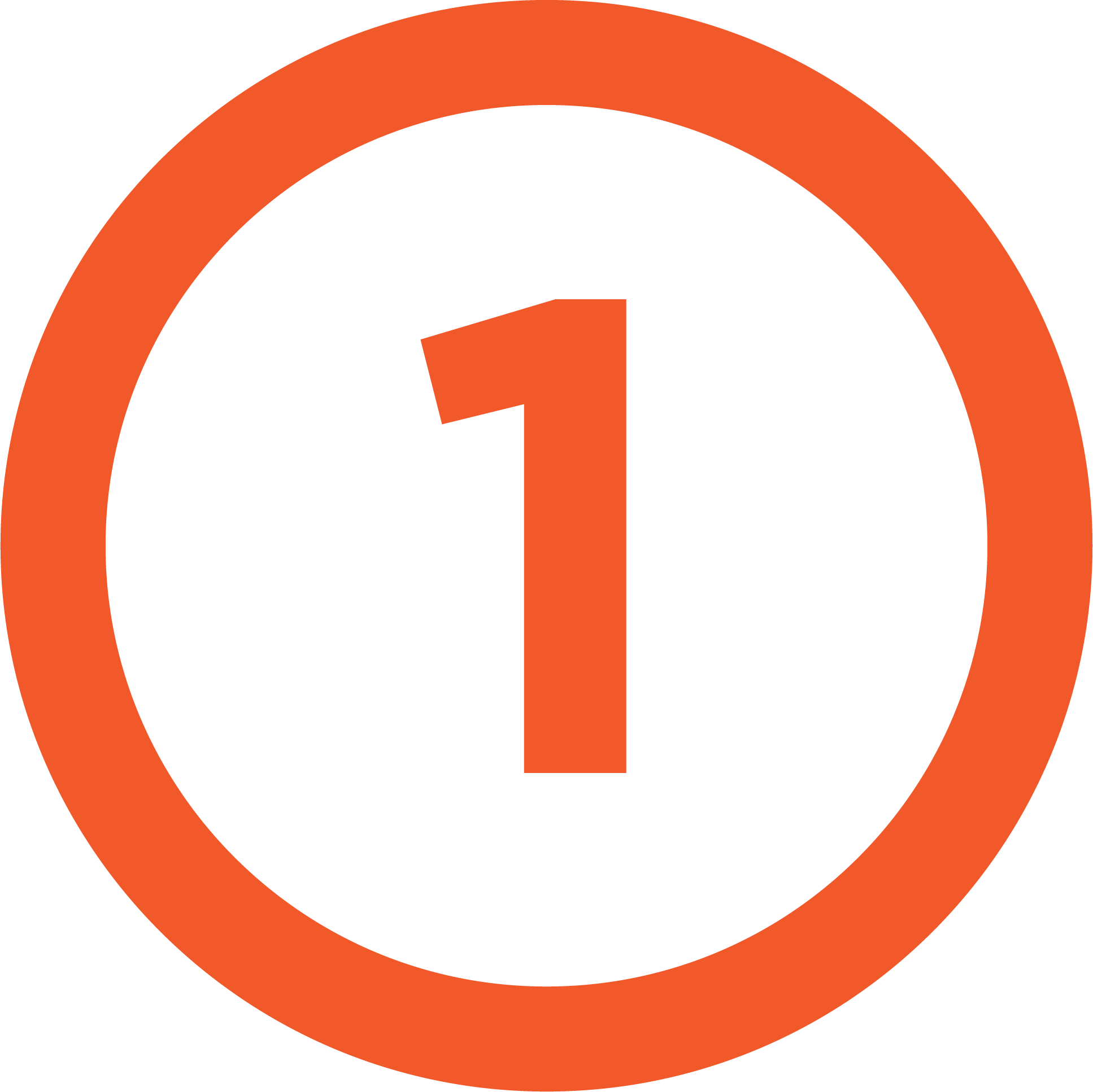 Book a Call With Our Experts
Talk to a growth strategist to explore this course, get all your questions answered, and choose the right package for you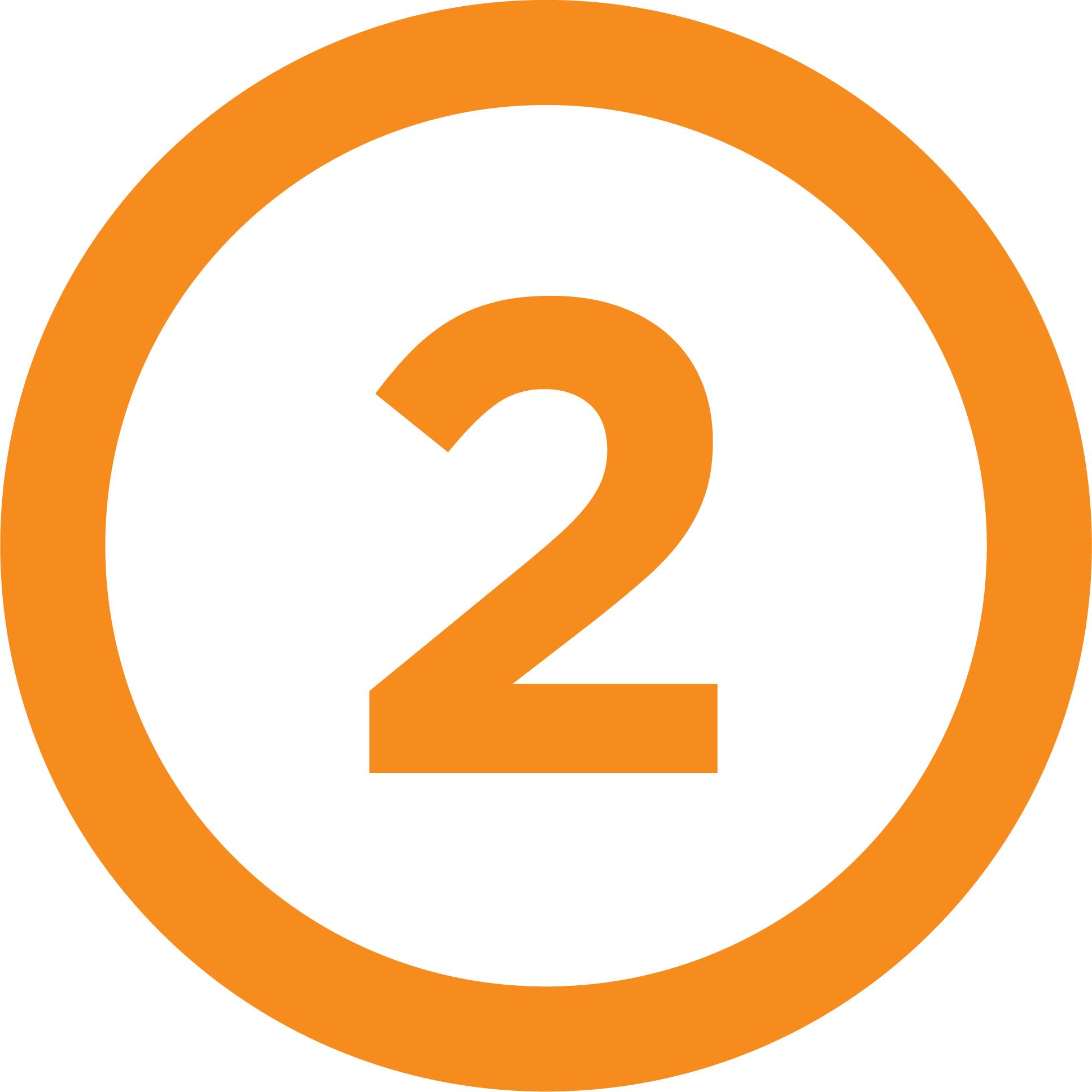 Create Your Success Blueprint
Jump in (risk-free)and begin your course experience with full access to all videos, live sessions with an expert coach, and a community of your peers at your back!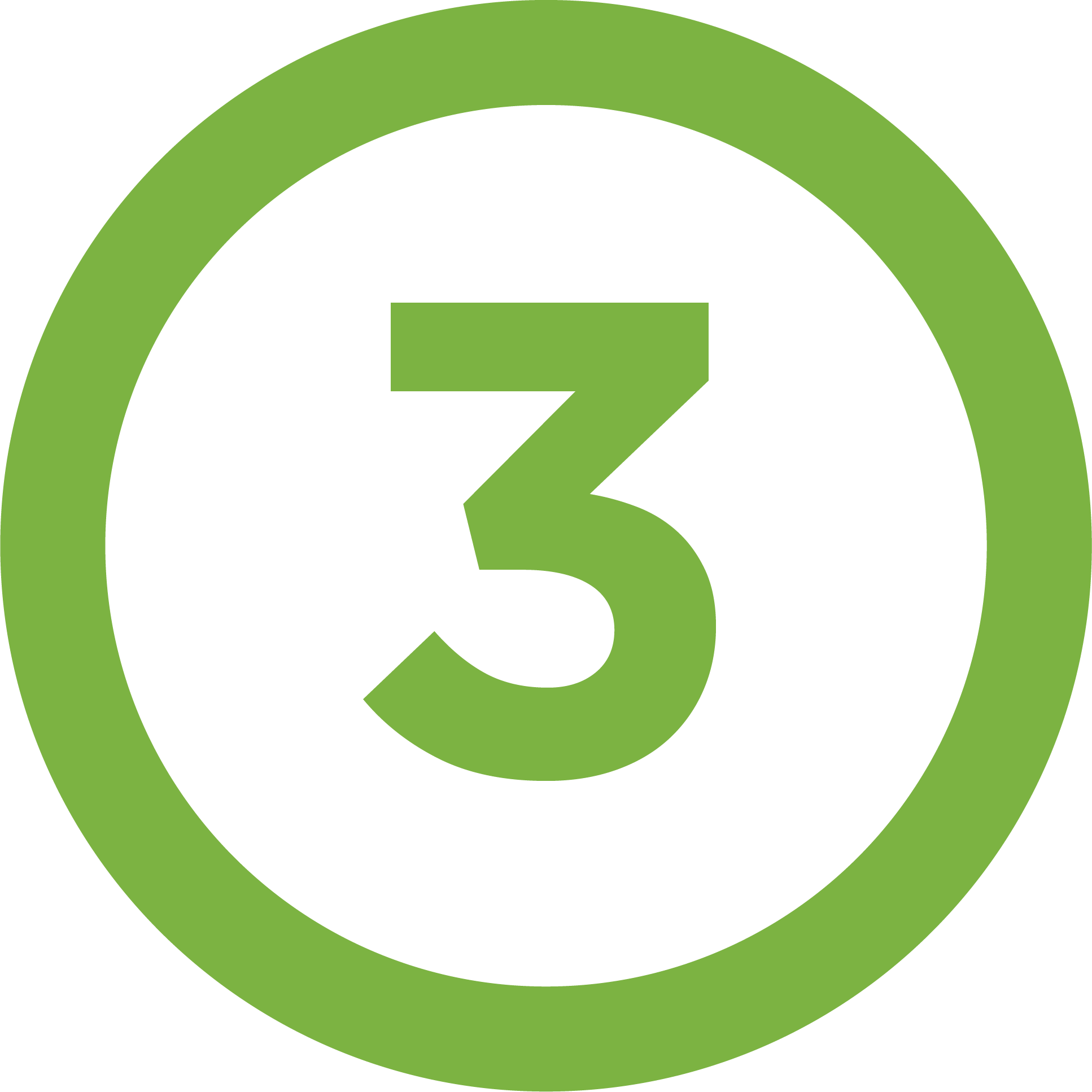 Scale Impact & Reduce Drama
See accelerated growth with your team of A-Players who are mow fully ready and skilled to scale.
Start your organization's transformation and get a taste of the types of growth & implementation tools available within Growth Institute's courses...