Great Game of Business Master Business Course
Are You Ready to 2X Your Revenue AND 3X Employee Engagement?
Start playing The Great Game of Business®! Take the next step and experience rapid financial results and lasting cultural change with the brand NEW Master Business Course!
Why Take The Course?
Introducing the Internationally Acclaimed Great Game of Business Master Business Course
The Great Game of Business takes the concept of open book management (OBM) - creating transparency by sharing financial information with employees - to another level.
It gamifies it, helping all employees in your company to act like owners and play a real role in everyone's success!
Unlike other methodologies, The Great Game Of Business is built to help you grow your business, AND improve the lives and fortunes of every member of your organization!
READY TO GET STARTED?
Download the course outline!
Curious about the course objectives? Want to know what each major section of the Great Game of Business Master Business Course focuses on? Get a sneak peek...

What You'll Learn
Know and Teach the Rules
Learn how to build trust and mutual respect throughout the company by teaching the base of financial literacy and align your team around the Critical Number. You'll learn how to involve your team in High Involvement Planning ™ so they want to buy in.
Follow the Action and Keep Score
Learn how to help your team keep the score – an essential part of being winner-focused. You'll also learn how to effectively communicate and instill an action-oriented culture that compels your employees to do their best and own their work.
Provide A Stake in the Outcome®
Tie it all together by inspiring the motivation in your employees, through quick wins, reward and recognition programs and financial incentives.

Jack Stack
JACK STACK, CEO of SRC Holdings Corporation, one of the first and largest employee-owned companies in the U.S., has championed the philosophy of educating, empowering, and engaging the workforce for more than four decades. Stack's leadership system, The Great Game of Business, builds on the power of transparency, financial literacy, and gamification to teach employees how to think and act like owners. Since 1983, SRC Holdings Corporation has leveraged these principles to start or acquire more than 60 businesses while creating thousands of jobs. SRC's leadership system has also served as inspiration for thousands of companies across the globe who believe in the transformative power of their employees.
Jack has been called the "smartest strategist in America" by Inc. Magazine and one of the "top 10 minds in small business" by Fortune Small Business Magazine. He has also been named an Executive Fellow for The Rutgers Institute for the Study of Employee Ownership and Profit Sharing.
Jack is a popular public speaker who shares timely takeaways on how the principles of the Great Game help the associates inside SRC's ten companies create better lives for themselves and their co-workers. SRC Holdings Corporation has received international recognition because of its success, including the Top 100 Companies to Work for in America, WorldBlu Most Democratic Workplaces, the National Business Ethics Award, and the Business Enterprise Trust Award.

Steve Baker
Steve co-authored Get in the Game™
as well as the update of the number one bestseller, The Great Game of Business—20th Anniversary Edition.

Known for his engaging and irreverent style, Steve is a top-rated, sought-after speaker and coach on open-book management, strategy and execution, leadership, and employee engagement.
His audiences range from Harvard University to the Department of Defense, and he is a regular at Inc. magazine's Inc. 5000 Conference. He has served on the Board of the National Center for Employee Ownership (NCEO) and SRC Holding's
Ownership Culture Initiative.

Steve is an award-winning artist and lives in Springfield, Missouri, with his trophy wife, JoAnn, and three above-average children.
Who will benefit from this course?
Business Owners
We provide the tools for business owners ready to take their businesses' growth seriously.
Founders
We provide the opportunity to emulate the proven results of industry leaders.
CEOs
We provide strategies to leverage the customer relationships you already have.
Top Executives
We provide the latest and most effective methods to scale up your business now.
Testimonials
What are leaders saying about the Great Game of Business?
Successfully Scale Your Business With Our 360 Hybrid Method of Learning
A company can only grow as fast as its leadership. What are you doing to grow your leaders of tomorrow? From Sales and Marketing to Operations and Finance –we have a course for everyone.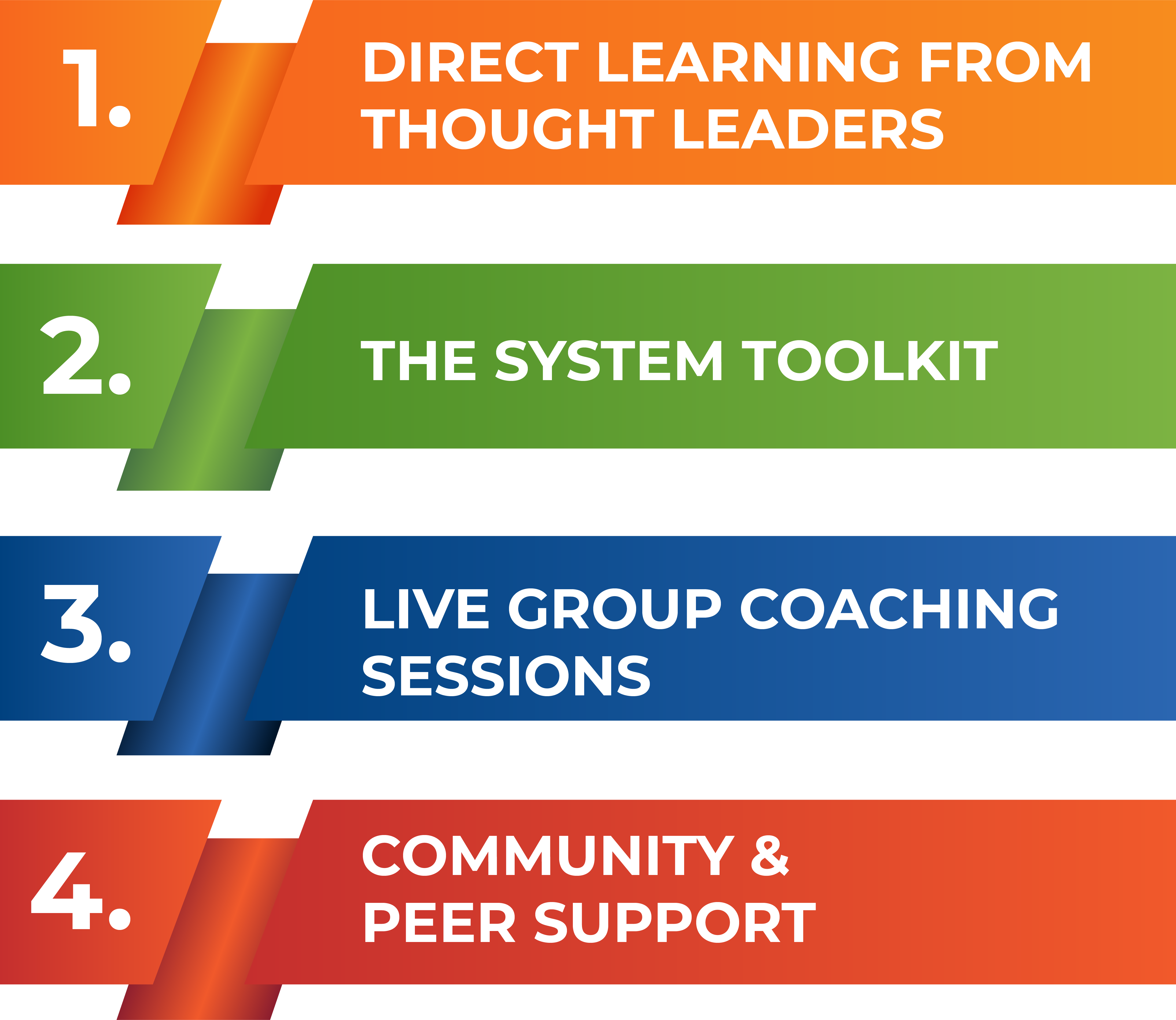 Pricing
How to enroll in this course
Master Business Course: Self-Paced
Course includes:
Access to this course for 1 team member
All Video content taught by Jack Stack
All course toolkits and resources
Lifetime access to this course, toolkits, etc.
Master Business Course: Full-Coached
(single seats available at $2400 per)
Full course includes:
Access to this brand new Master Business Course for 3 team members
Learn directly from the inventors of the game, Jack Stack and Steve Baker
27 workbooks, resources, tools, and more to aid in implementation
Lifetime access to this course, toolkits, etc.
Global community of peers and 24/7 Q&A support
7 Life coaching calls with Certified Great Game of Business coach, Steve Baker
A personalized 1-on-1 coaching session for your team with Steve or one of his coaches
MBD All Access: Recommended Package
Membership includes full access to this course PLUS:
Access to all Master Business Courses
The full library of Learning Suites in The Edge
Tailored Curriculum and personalized onboarding for you and your team
Global growth community
Live trainings with authors and coaches to help implement new methodologies
Growth Assessments to understand the biggest areas of opportunity
Monthly progress check-ins to review progress and update curriculum
Quarterly progress reporting