Hyper Sales Growth
Scale Your Sales Process With a World-Class Sales Team and Playbook
Join Hyper Sales Growth Master Business Course and start implementing today!
Why Take The Course?
Scale Your Sales Process And Team With Hyper Sales Growth
Business leaders shouldn't focus on growing sales.

Instead you must focus on growing your sales people in both quantity and quality. And you have to do this every day. This course helps you put a spotlight on their efforts and enhance the culture they work in day in and day out.

When you focus on the right things, your team will grow your sales greater than you could ever predict.
READY TO GET STARTED?
Download the course outline!
To align yourself with this course, you'll want to review the outline first.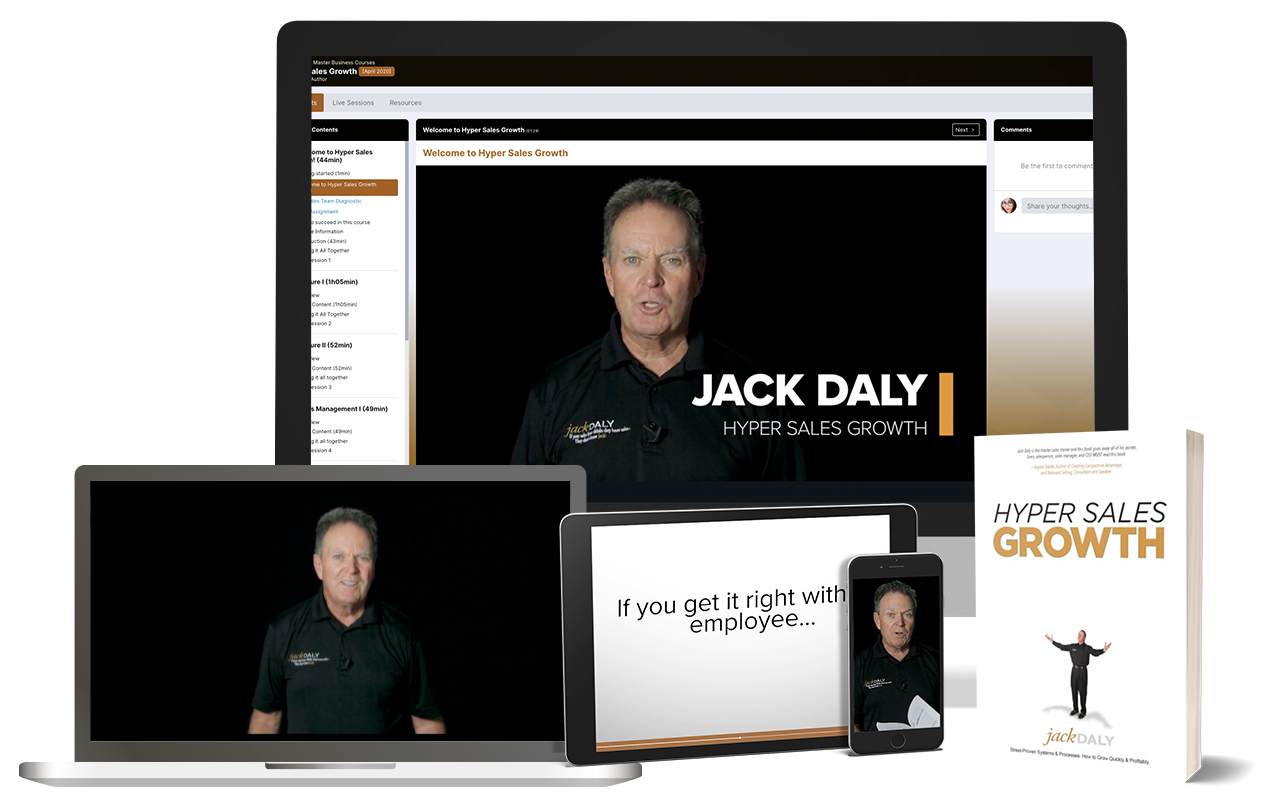 What You'll Learn
This proven program will show you how to create a foolproof sales playbook and a world class sales team to execute it.
Dive into effective sales tactics
Recruit the best talent to join your team
Build a thriving culture that pushes your organization to grow
Increase your sales returns with effective incentives and recognition
Understand customer reluctance and win them over
Use the right sales management tools to create an unstoppable workforce

Jack Daly
Jack Daly is a world-class sales speaker and trainer with over 30 years of sales and executive experience.
Jack has risen to the CEO level at multiple corporations and built six companies into national firms, two of which he subsequently sold to the Wall Street firms of Solomon Brothers and First Boston.

A former Captain in the U.S. Army, his BS in Accounting and MBA gave him the proper drive and education to become a globally recognized expert in sales and sales management.

An Amazon Bestselling Author, his contributions to many books, including Hyper Sales Growth and The Sales Playbook for Hyper Sales Growth shows his comprehensive professional background.

Juan Gonzalez
Juan excels at advising Companies on how to improve their enterprise's value around the intersection of strategy, execution, and human capital performance for enhanced achievement.

His clients transform their organizations by aligning their investments in human capital development with their corporate strategy, accelerating growth, engagement at work, and maximizing enterprise value.
Juan's clients are typically fast-growing companies that operate in a highly competitive environment.
Who will benefit from this course?
Business Owners
We provide the tools for business owners ready to take their businesses' growth seriously.
Founders
We provide the opportunity to emulate the proven results of industry leaders.
CEOs
We provide strategies to leverage the customer relationships you already have.
Top Executives
We provide the latest and most effective methods to scale up your business now.
Testimonials
What are leaders saying about Hyper Sales Growth?
Successfully Scale Your Business With Our 360 Hybrid Method of Learning
A company can only grow as fast as its leadership. What are you doing to grow your leaders of tomorrow? From Sales and Marketing to Operations and Finance –we have a course for everyone.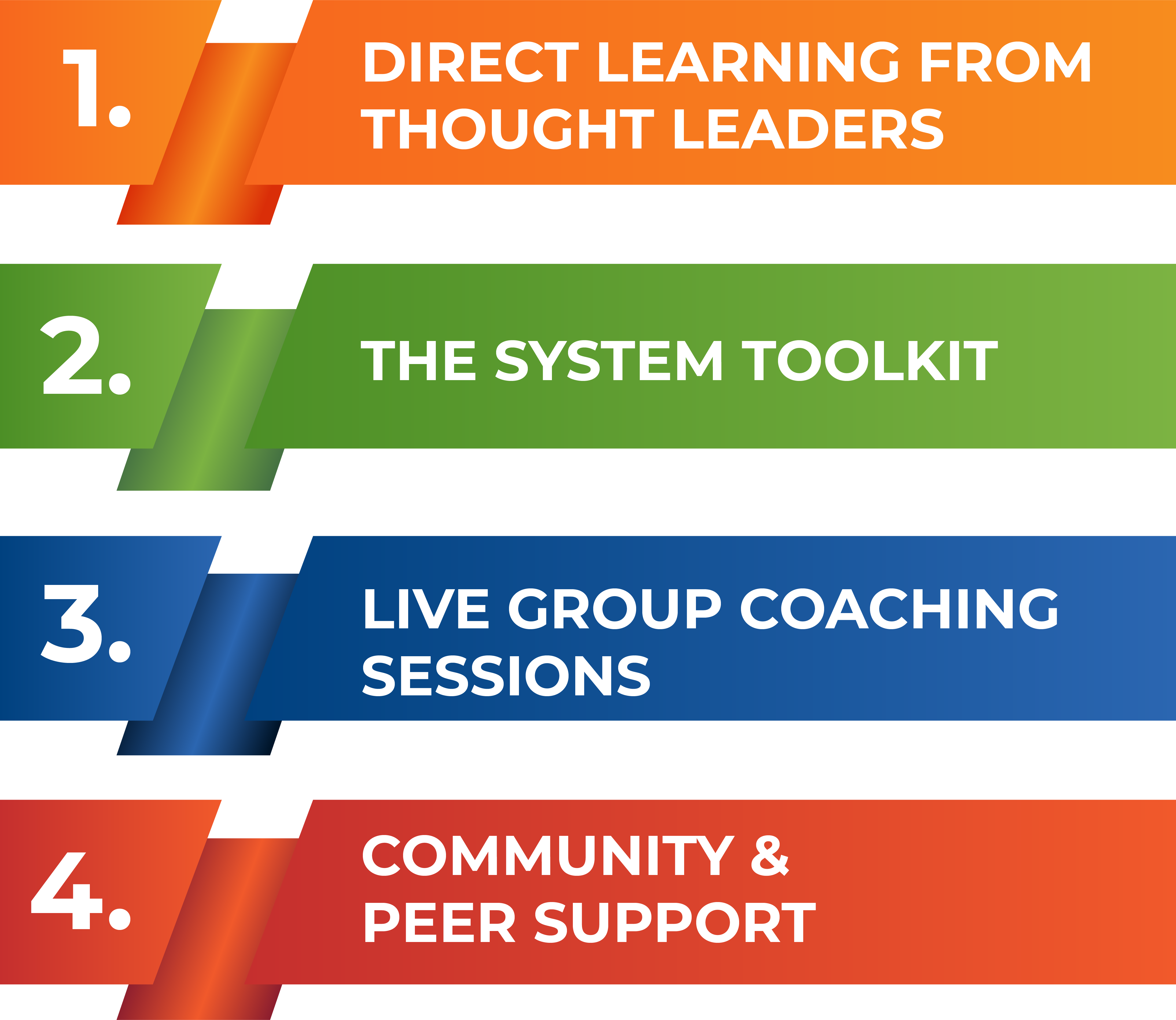 Pricing
Enroll in the course today!
Master Business Course: Self-Paced
What's included:
Access to this course for 1 team member
All video content taught by Jack Daly
All course toolkits and resources
Lifetime access to this course, toolkits, etc.
Master Business Course: Full-Coached
$5,490
for 3 team members
Full course includes:
Access to this course for 3 team members
Lifetime access to this course, toolkits, etc.
Global community of peers
8 core modules
7 Live coaching calls
MBD All Access: Recommended Package
$6,000
for 5 team members
Membership includes full access to this course PLUS:
Access to all Master Business Courses
The full library of Learning Suites in The Edge
Tailored Curriculum and personalized onboarding for you and your team
Global growth community
Live trainings with authors and coaches to help implement new methodologies
Growth Assessments to understand the biggest areas of opportunity
Monthly progress check-ins to review progress and update curriculum
Quarterly progress reporting